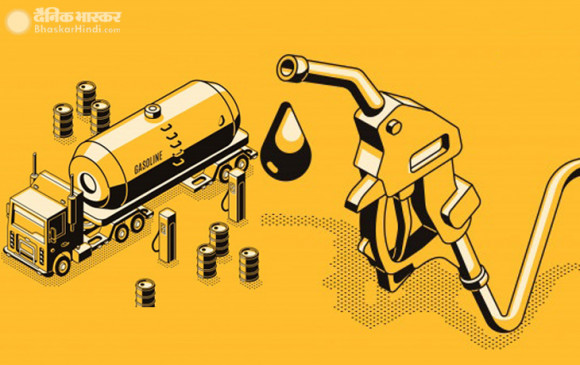 Digital Desk, New Delhi. There is a continuous increase in the prices of petrol-diesel in India. This situation has been prevailing since November and today (Sunday, 06 December) fuel prices have been increased once again. Indian oil marketing companies (IOC, HPCL & BPCL) have increased the price of petrol by up to 28 paise per liter. At the same time, the price of diesel has increased up to 29 paise. If seen, petrol has become expensive by Rs 2.34 and diesel by Rs 3.19 in the last 36 days.
Let us tell you that for the whole 50 days before November, the prices of petrol and diesel were relieved. This relief was due to weak demand in the international crude oil market. Which is now seeing a boom. This is why fuel prices are increasing daily in the domestic market. Yesterday, oil companies increased the price of petrol from 24 paise to 27 paise and diesel price by 27 paise per liter. Right now you know today's prices …
Group of 209 employees to bid for Air India
price of petrol
According to the website of Indian Oil, today the price of petrol in the country's capital Delhi is Rs 84.90 per liter. Petrol is getting Rs 89.78 per liter in the financial capital Mumbai. Talk about Kolkata, you will have to pay 86.25 rupees for a liter of petrol here. While in Chennai, petrol will be available for Rs 90.05 per liter.
Diesel price
The price of diesel in Delhi has been increased to Rs 73.61 per liter. Diesel is being sold at Rs 77.81 per liter in Mumbai. In Kolkata you will get one liter diesel available for Rs 80.23. Whereas in Chennai you have to pay 78.97 rupees for one liter diesel.
Insurance cover is necessary for grocery shop owners facing daily risks
This is how the price is fixed
Petrol and diesel prices change every day depending on what the crude prices are in the international market along with foreign exchange rates. Based on these standards, oil marketing companies (OMCs) decide the petrol rate and diesel rate daily. Indian Oil, Bharat Petroleum and Hindustan Petroleum revise petrol and diesel rates at 6 am every day. After adding excise duty, dealer's commission and other things to the prices of petrol and diesel, the price of oil rises up to double.
Apart from this, for different prices in the states, each state imposes different local sales tax or Value Added Tax (VAT) on petrol and diesel. Due to this, the rates of diesel and petrol for consumers change according to the states.
.