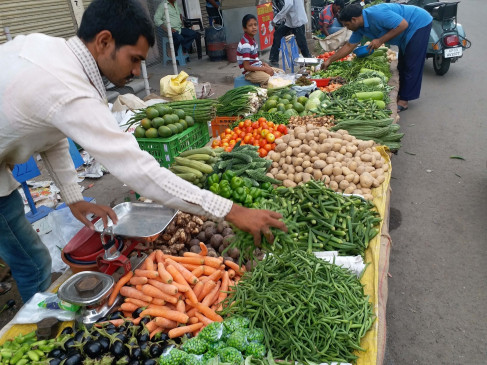 New Delhi, 5 December (IANS). Heaps of consumer goods, pushing other items to remove anything, food bags, mouth fresheners and shampoo-laden battles, dusty shop corner hand-written placards containing the price of the ingredients are more or less visible in India I will be seen at grocery stores in every city.
But the entry of grocery stores near it will be misleading, these are called generalized trading stores where a large amount of the retail merchandise of India is kept. Nearly 90 percent of the retail trading businesses of this type in the country also keep general trading stores with them, the remaining 10 percent are either organized food vendors and super markets which have their own grocery stores where they can buy food items Supplies household use items.
In the face of stiff challenges from online retailers and state-of-the-art chain retail stores, they not only managed to survive, but made a comeback despite a nationwide lockdown due to the Corona virus epidemic. While modern department stores and online retailers struggled during the lockdown, grocery stores emerged as front runners in providing requirements to consumers. Even though things have fallen significantly, the existing 66.5 lakh grocery stores across the country have gained tremendous consumer confidence.
In this regard, Mohit Goyal, co-founder and chief marketing officer of Checkbook, said that the owners of grocery stores kept meeting the many needs of consumers, often forgetting to protect themselves from any unexpected emergency. Take a look at these points how these small business owners can protect themselves and their businesses from any unfortunate event.
1. By obtaining a term insurance cover: Getting a term insurance policy can protect the financial future of the family of a small business owner. A term insurance policy provides financial protection where an amount equal to the life insurance cover is paid to the nominee in case of accidental demise of the policyholder. To ensure complete peace of mind, one can also apply for riders, increasing the scope and coverage of the base term insurance policy. Therefore, the individual grocery store owner can protect both his family and business by opting for life insurance with adequate cover.
2. Getting health insurance cover: Between the busy schedules of small business owners such as grocery store owners, rarely stocking groceries, holding meetings with distributors and arranging money for businesses, seldom and themselves Focuses on protecting the family's health. Any type of emergency medicine can be a hindrance to their business. The money they have left to expand their business, they have to spend in health care expenses. Health insurance cover provides protection to the merchant's financial and physical health. A proper insurance plan will provide coverage from the full range of hospitalization expenses. Apart from this they will be able to get the best treatment, in a way it also provides them future expenses like OPD and day-care treatment facilities.
3. Obtaining Fire and Theft Insurance Cover: Also known as property insurance, a fire and theft cover is a must for grocery store owners, as it protects their stores and their contents from natural and man-made disasters. Will protect Incidents like fire, earthquake, flood, burglary, etc. can occur suddenly, causing substantial financial loss to small business owners. This type of insurance cover protects the property at the time of any disaster as it provides support to repair and even re-settle the breakage within the shop. Many property insurance companies provide for a comprehensive cover, including protection against theft, theft and terrorist acts.
4. By obtaining a money insurance policy: Money transactions are important for all business owners, and the owners of grocery stores are not untouched. A money insurance policy can protect one from the risk of loss while transferring funds through checks, drafts, cash etc. In other words, it can provide a comprehensive cover for cash transactions. In addition, it provides security in the event of theft or loss of cash kept in the vault of the shop, as there is a risk of theft and breach after closing the shop. Many insurance companies provide this additional facility with their fire insurance policies.
5. Obtaining auto insurance: A large number of grocery store owners depend on two-wheelers and cars or tampos for their business and personal needs. Therefore it becomes necessary to have a personal auto insurance policy. These types of policies provide third party claims not only in case the vehicle is damaged in an accident. Vehicle insurance will also provide assistance for damage arising due to vehicle theft or damage caused by natural damage to the vehicle. Having vehicle insurance also helps them to comply with the Motor Vehicles Act.
Grocery store owners can protect themselves, their loved ones and their prized small business by choosing suitable insurance policies. Having a strong insurance portfolio will provide protection against any unforeseen event or unexpected emergency. When purchasing an insurance policy, it is important to select a reliable and reliable insurer. One should also compare different schemes and examine important benchmarks such as claim settlement ratio and solvency ratio. With this, it is extremely important to carefully read policy wordings and zeros on a plan with the best features.
JNS
.