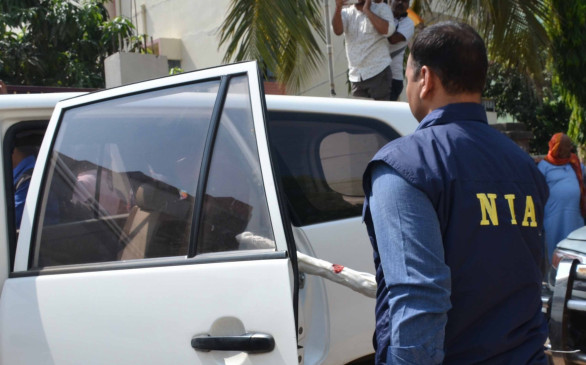 Jammu, 5 December (IANS) The National Investigation Agency (NIA) in its charge sheet filed in the case related to the seizure of 21 kg of heroin and cash worth over Rs 1.35 crore, names of six people including a 40-year-old former manager of a branch of the co-operative bank, a lineman and a block development officer Are included.
An investigation by the NIA has revealed that the accused smuggled and supplied narcotics from across the border to Jammu and Kashmir and other parts of the country. The accused used to purchase these items from their partners abroad including Pakistan.
The proceeds from the sale of heroin were carried forward by the accused for terrorist activities of Lashkar-e-Taiba (LeT).
Filing the chargesheet in a special NIA court in Jammu, the NIA has named Afaq Ahmed Wani (branch manager at Baramulla Central Cooperative Bank in Handwara), Abdul Momin Pir (employed as assistant lineman in Handwara), Syed Iftikhar Andrabi (block in Kupwara A village-level worker in the development office) and Islam-ul-Haq Pir (owner of a sanitary shop). These are among the six accused who are in custody.
Apart from this, the NIA has also filed a chargesheet against Salim Andrabi (working at the Child Ashram in Handwara under the Social Welfare Department) and Munir Ahmed Bade (owner of a cement shop in Handwara). All the accused have been charged under the Narcotic Drugs and Psychotropic Substances Act and Unlawful Activities (Prevention) Act.
The case came to light on June 11 during a vehicle check by Handwara police on Kairana bridge. Abdul Momin's Creta vehicle was intercepted and searched by the Police Naka Party.
The NIA said, the vehicle was searched and a cash amount of Rs 20,01,000 and 2 kg of heroin were seized. Abdul Momin was arrested and after his revelations, 50-year-old accused Syed Iftikhar and 20-year-old Islam-ul-Haq were arrested.
RHA / ANM
.