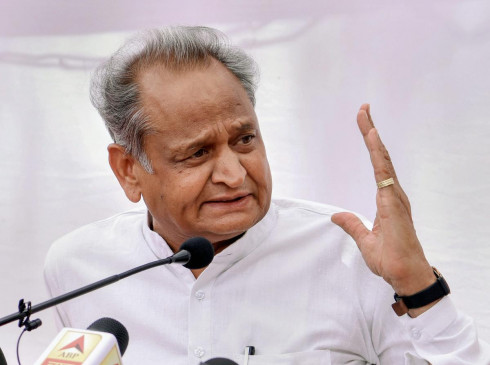 Digital Desk, New Delhi. There is a panic once again before the Cabinet expansion in Rajasthan. Rajasthan CM Ashok Gehlot on Saturday accused the BJP of starting a game of toppling the state government. While addressing Congress workers, Ashok Gehlot said that the game of toppling the government in Rajasthan is about to start again. There are also talks of toppling the government in Maharashtra.
CM Gehlot said this at the inaugural function of the Congress office in Sirohi. He addressed the workers through a virtual conference. He made a big charge to Home Minister Amit Shah that he had met rebel MLAs earlier too. Then Shah told the MLAs that this is my Prestige point. I have dropped 5 governments, I will also drop the sixth. Gehlot said that Congress leader Ajay Maken has been witness to the BJP's attempt to topple the government earlier. He said that Ajay Maken, the Congress in-charge in Rajasthan, was also involved in this program. During this incident Maken stayed with our MLAs in the hotel for 34 days.
Home minister Amit Shah accused of conspiracy
Ashok Gehlot accused the home minister of the country, Amit Shah that he was sitting and feeding our MLAs tea-snacks and telling them that five have dropped the government, the sixth is about to fall. Dharmendra Pradhan was talking to the judges to raise their morale. Gehlot said that Amit Shah had met our MLAs for one hour and after the fall of five governments, Shah had said that the sixth was also dropped.
Attempts were made to bring down the government even during the coronary period – Gehlot
CM Gehlot said that efforts were made to bring down the government of Rajasthan even during the coronary period. He said that when our MLA went to meet Amit Shah, Petroleum Minister Dharmendra Pradhan and Rajya Sabha MP Syed Jafar Islam were also present at this meeting there. This meeting lasted for about an hour. Then the MLAs came and told me that we were ashamed that there were home ministers like Sardar Patel and where people like Amit Shah are sitting on their chair. The MLAs had also told that Minister Dharmendra Pradhan was also doing a drama drama with the judges of the Supreme Court and High Court at that time and was encouraging the MLAs.
Sachin Pilot was also accused
It is being said that Chief Minister Ashok Gehlot has targeted former Deputy Chief Minister Sachin Pilot on the pretext of BJP. It is believed that the cabinet will be expanded soon in Rajasthan, in such a situation political facts are being extracted without an attack on Sachin Pilot.
BJP counterattack
On this allegation of Gehlot, BJP state president Satish Poonia retorted that Ashok Gehlot is unable to run the rule. Hence making false and factless allegations. Inside the Congress, there is an internal quarrel in the house, due to which it is upset, for this, attacking the BJP by accusing the BJP without any evidence. State President Punia said that Ashok Gehlot came to bring down the government every day – like wolf aya, he brings new stories. There is so much quarrel in their government that they want to hide their quarrel by blaming BJP leaders. Punia said that Ashok Gehlot alleged that BJP is spending huge money to build office and we are saying that instead of holding office for so many years, the leaders built their houses.
.